Garden, nursery and aviaries::: Open 9-5 Saturdays & Sundays only. Please note from December-February we are only open on the last weekend of each month. Group bookings outside these hours may be possible by prior arrangement at our discretion.


Telephone +64 (0)3 2064983. Email enquiries (at) mapleglen (dot) co (dot) nz
Entry is by donation. Tour groups $15 per head.

Weddings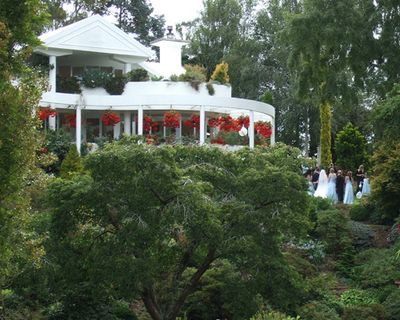 As of February 2014 we no longer allow weddings in the garden. We are happy to recomend a number of other Southland gardens that offer a wedding service, among them the Hawthorn Gardens and the Lignite pit.
Picnics
As of January 2015 and due to the poor behaviour of a small number of visitors all picnics must be had in the parking area. No food or drink is to be taken into the garden. Children must be supervised at all times, this means keeping them within sight - and within reach for under 5's. We do not want a child to drown here.
PLEASE no dogs, no barbecues, no litter bugs. Please supervise your children as the garden can be damaged, the swans may be aggressive when nesting and some of the ponds are very deep. Some paths may be slippery when wet. Please take care.
Maple Glen is not a public park, it is a private garden and our home - we do appreciate your consideration.
- Muriel & Bob, Rob & Kimmy.
Driving to Maple Glen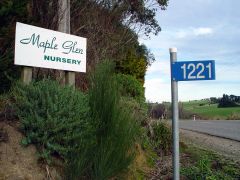 From State Highway One: Leave at Edendale, take the road to Wyndham. In Wyndham find the road to Glenham (signposted). We are 12 kilometres along that road on the left (two kilometres past Glenham). Wyndham-Letterbox road rapid no. 1221.
From the Southern Scenic Route: Leave near Fortrose, take the road through Waimahaka.
Turn right onto 'Wyndham-Letterbox Road'. 4kms along that road on the right.
Driving times
Dunedin to Maple Glen: 2 hours.
Gore to Maple Glen: 30 minutes.
Invercargill to Maple Glen: 40 minutes.
Wyndham to Maple Glen: 12 minutes.

You can find us on Google Earth by clicking HERE
(You will need Google Earth installed on your computer). If left clicking on the link doesn't work: right click, save the .kmz file to your computer and then double click on it.